Coconut Quinoa Pudding – A Delightful Gluten-Free Breakfast or Dessert
Experience the delectable flavors of Coconut Quinoa Pudding, a delightful twist on the classic rice pudding. This sweet and creamy dish is not only a treat for your taste buds but also a great option for those following a gluten-free and fun alternative to oats. Whether you choose to enjoy it for breakfast or as a satisfying dessert, this Coconut Quinoa Pudding is sure to please your palate with its rich coconut flavor and fluffy texture.
Ingredients:
1/2 cup quinoa
1 tin (400ml) coconut milk
1/2 tbsp coconut sugar
Pinch of Himalayan salt
Toppings:

Fresh mango slices
Creamy coconut yoghurt
Toasted coconut flakes
Black sesame seeds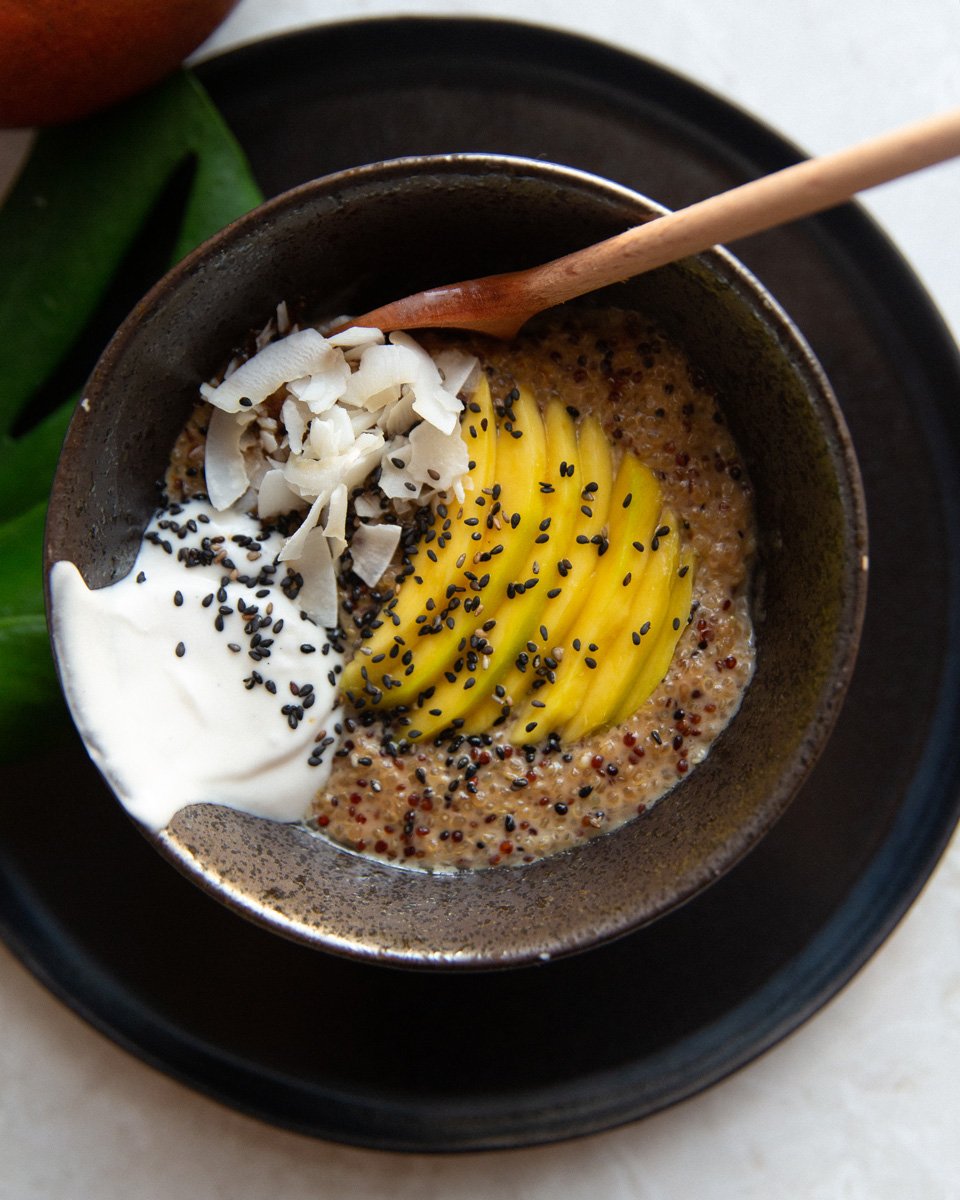 Method:
In a pot, combine the quinoa, coconut milk, coconut sugar, and a pinch of Himalayan salt. Stir well to combine.
Place the pot over medium heat and bring the mixture to a gentle boil. Once it starts boiling, reduce the heat to low and cover the pot with a lid.
Allow the quinoa to simmer for about 15-20 minutes or until it becomes soft and fluffy, absorbing the coconut milk.
Once cooked, remove the pot from the heat and let it sit, covered, for a few minutes to allow the flavors to meld together.
Spoon the Coconut Quinoa Pudding into serving bowls. Sprinkle a pinch of coconut sugar on top to enhance the sweetness, if desired.
Add your favorite toppings, such as fresh mango slices, a dollop of creamy coconut yoghurt, a sprinkle of toasted coconut flakes, and a scattering of black sesame seeds.
Give it a gentle stir to combine the flavors and textures.
Serve warm or chilled, and savor each spoonful of this delightful gluten-free treat.
Coconut Quinoa Pudding
Ingredients
Porridge

1/2 cup of quinoa

1 tin coconut milk

1/2 tbsp coconut sugar

Pinch of Himalayan salt

Topping

Mango

Coconut Yoghurt

Coconut flakes

Black sesame seeds
Directions
In a pot add all the ingredients together until the quinoa is soft and fluffy
Serve in a bowl sprinkle a pinch of coconut sugar on top and add toppings
Indulge in the delightful flavors and textures of this dish, a gluten-free alternative to traditional rice pudding. This creamy and satisfying dish can be enjoyed as a nourishing breakfast or a sweet dessert. With its subtle sweetness and the exotic touch of coconut, this Coconut Quinoa Pudding is a fantastic way to start your day or satisfy your cravings. Customize it with your favorite toppings, such as juicy mango, creamy coconut yoghurt, crunchy coconut flakes, and nutty black sesame seeds, and elevate the experience to a whole new level. Embrace the delightful taste and wholesome goodness of Coconut Quinoa Pudding, and discover a new favorite treat that will keep you coming back for more.