Go-To Avo Toast – Elevate Your Morning with Creamy Avocado Goodness
We're currently in a lockdown at the moment at home, so I've been trying to focus on the little joys every day. Today it was this creamy avocado topped on fresh bread, plus fresh morning walks before we got caught in the rain.

One of my go-to morning rituals is indulging in a delicious Avocado Toast. With creamy avocado, tangy feta, a hint of thyme, and a burst of lemon, this simple yet flavorful dish is a perfect way to start the day on a positive note. Join me as we make one of my favourite breakfasts.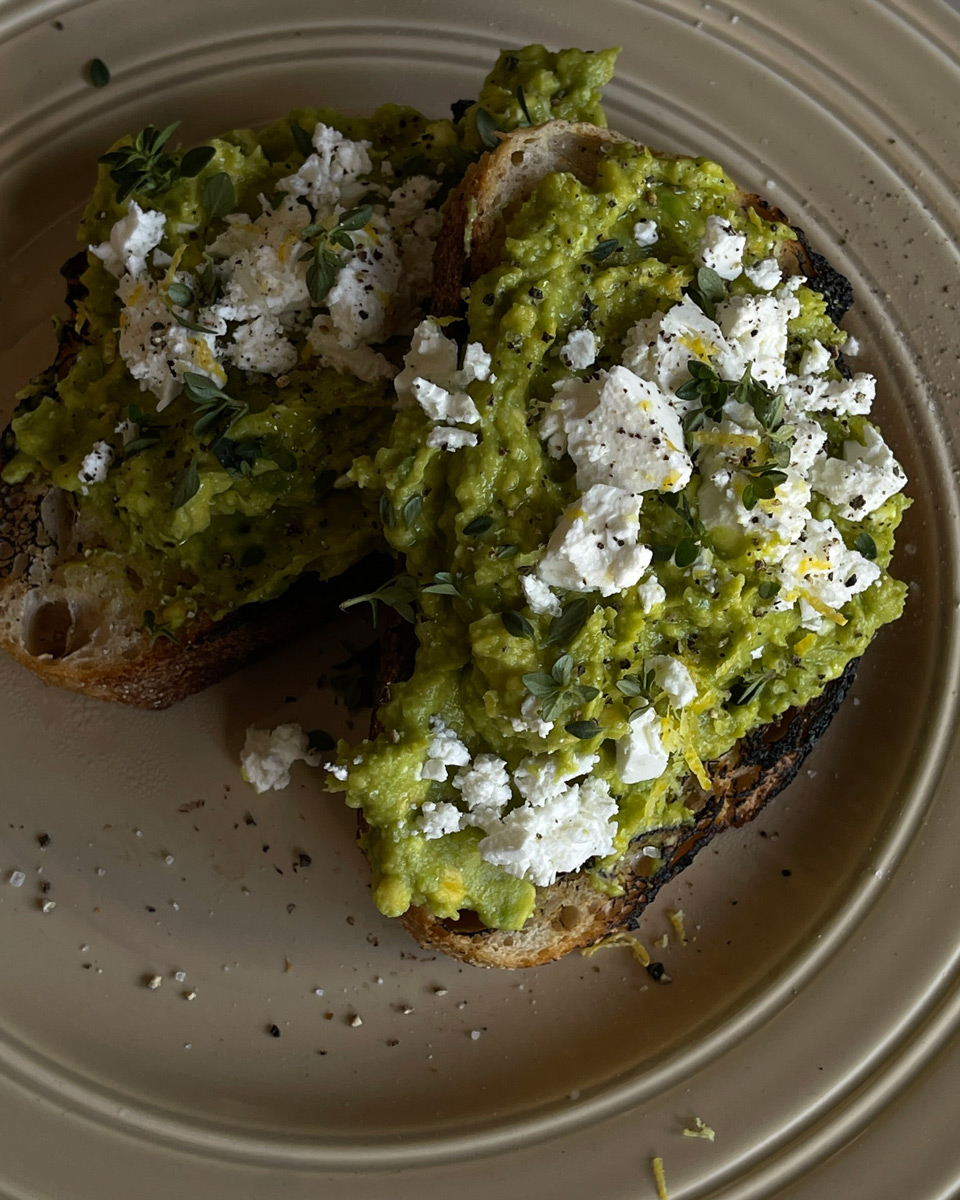 Serves 1 | GF RSF
Gluten-Free, Refined Sugar-Free
Ingredients:
2 slices gluten-free sourdough bread
1 ripe avocado
Crumbled feta cheese
Fresh thyme leaves
Lemon juice
Lemon rind
Salt and pepper
Method:

Begin by cutting the avocado in half, removing the pit, and peeling off the skin. Slice one-half of the avocado into thin, even pieces.
Toast the gluten-free sourdough slices to your desired level of crispness.
In a bowl, gently smash the other half of the avocado with a fork, adding a squeeze of fresh lemon juice for a zesty kick. Mix until well combined.
Take the toasted sourdough slices and spread the creamy avocado mixture evenly onto each slice.
Sprinkle crumbled feta cheese over the avocado spread, followed by a sprinkle of fresh thyme leaves and a pinch of lemon rind for added flavor and aroma.
Season with salt and pepper to taste, ensuring the flavors are well-balanced.
Take a moment to appreciate the beautiful creation you've assembled, and then savor each bite of your breakfast.
Go-To Avo Toast
Ingredients
2 slices gf sourdough

1 avocado

Feta

Thyme

Lemon juice

Lemon rind

Salt & pepper
Directions
Cut the avocado, peel off the skin, and slice one half
Toast the sourdough, in a bowl smash avocado and a squeeze of lemon juice together and smear on toast
Add the toppings and enjoy!
Avo Toast has become a breakfast staple for many and for good reason. Its simplicity, versatility, and incredible taste make it an instant crowd-pleaser. By elevating this classic dish with creamy avocado, tangy feta, and zesty lemon, we've created the ultimate Go-To Avo Toast that is sure to brighten up your morning routine. Whether you're in lockdown or simply seeking a delightful breakfast option, this recipe is a comforting reminder to cherish the little joys in life. So, take a moment to pamper yourself and enjoy the creamy, tangy, and refreshing flavors of this irresistible toast.