Vegan Nachos Recipe | Easy and Flavorful Plant-Based Delight
Indulge in the delightful flavors of Vegan Nachos, a dish that surpasses the effort required to make it. This lazy mid-week dinner is perfect for one, two, or even a crowd. Prepare to savor the mouthwatering combination of crispy corn chips, seasoned bean mix, zesty salsa, and creamy avocado. Let's dive into this hassle-free and satisfying plant-based delight.
It tastes better than the effort required & that's the dream really 😌💖 Lazy mid-week dinner or snack!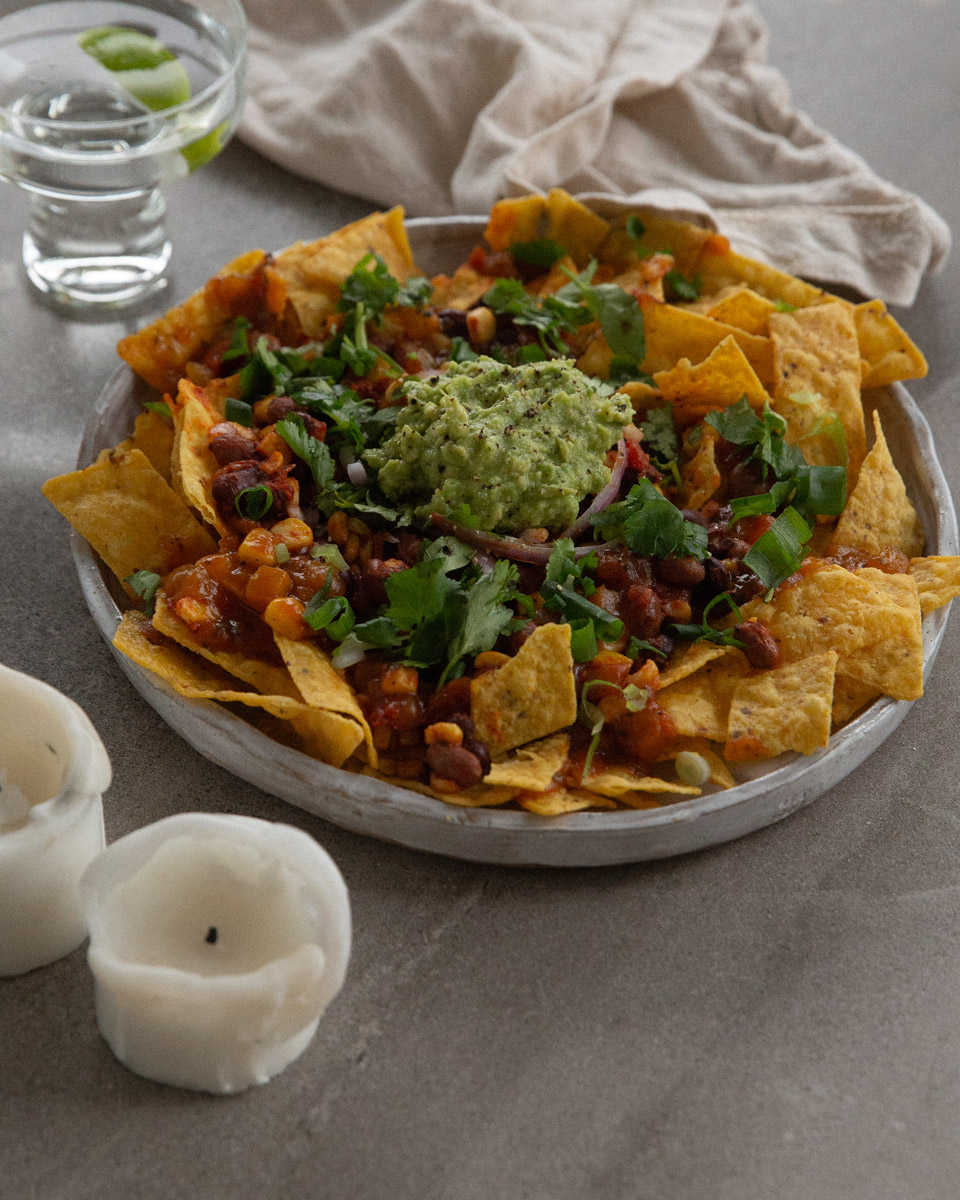 Serves 2 | V GF DF RSF
Vegan, Gluten Free, Dairy Free, Refined Sugar-Free
Ingredients:
1 packet of corn chips
Bean Mix:

Handful of chopped red onion
1/2 cup corn
1/2 cup beans
1/2 tbsp tomato paste
1/4 cup tinned tomatoes

Spice Mix:

Salt and pepper
1 tsp smoked paprika
1 tsp cumin
1/2 tsp garlic powder
1/2 tsp onion powder
1/4 tsp chili powder
1/4 tsp dried coriander

Toppings:

Salsa
Handful of spring onion
Handful of coriander
1/2 avocado
1/2 lime
Method:

Preheat your oven to 180°C/350°F.
In a frying pan, drizzle olive oil and add the mixed beans. Sprinkle the spice mix and cook until well combined.
Place the corn chips on a baking sheet and top them with the bean mix.
Drizzle salsa over the chips and lightly drizzle with olive oil.
Sprinkle the toppings, squeeze lime juice, add smashed avocado, and get ready to enjoy a burst of flavours!
Save it on Instagram here
Watch it on Tiktok here
Click here to watch how I make my own corn chips
Vegan Nachos
Ingredients
1 packet corn chips

Bean Mix

Handful chopped red onion

1/2 cup corn

1/2 cup beans

1/2 tbsp tomato paste

1/4 cup tinned tomatoes

Spice Mix

Salt & pepper

1 tsp smoked paprika

1 tsp cumin

1/2 tsp garlic powder

1/2 tsp onion powder

1/4 tsp chili powder

1/4 tsp dried coriander

Toppings

Salsa

Handful spring onion

Handful coriander

1/2 avocado

1/2 lime
Directions
Preheat your oven to 180°C/350ºF
In a frying pan drizzle olive oil and pour out the mixed bean, sprinkle the spice mix, and cook together
Pour out the corn chips and add the bean mix on top
Drizzle some salsa on top and very lightly drizzle the corn chips with olive oil
Sprinkle the toppings, a squeeze of lime, and smashed avocado, and enjoy!
Get ready to tantalize your taste buds with the irresistible appeal of Vegan Nachos. These plant-based delights offer a medley of textures and flavors that will satisfy your cravings effortlessly. Whether it's a quick dinner for yourself or a gathering with loved ones, these nachos are sure to impress. Enjoy every crunchy bite and savor the goodness of this easy and flavorful dish.