Get ready for this heavenly combination of mocha and peanut butter in this irresistible smoothie bowl. Packed with frozen bananas, a shot of espresso, and a touch of cacao, this energizing and satisfying bowl is the perfect way to kick-start your day. It's good for you, yet tastes like ice-cream! Whether you're a coffee lover or simply crave a luxurious breakfast treat, this Smoothie Bowl is sure to leave you craving more.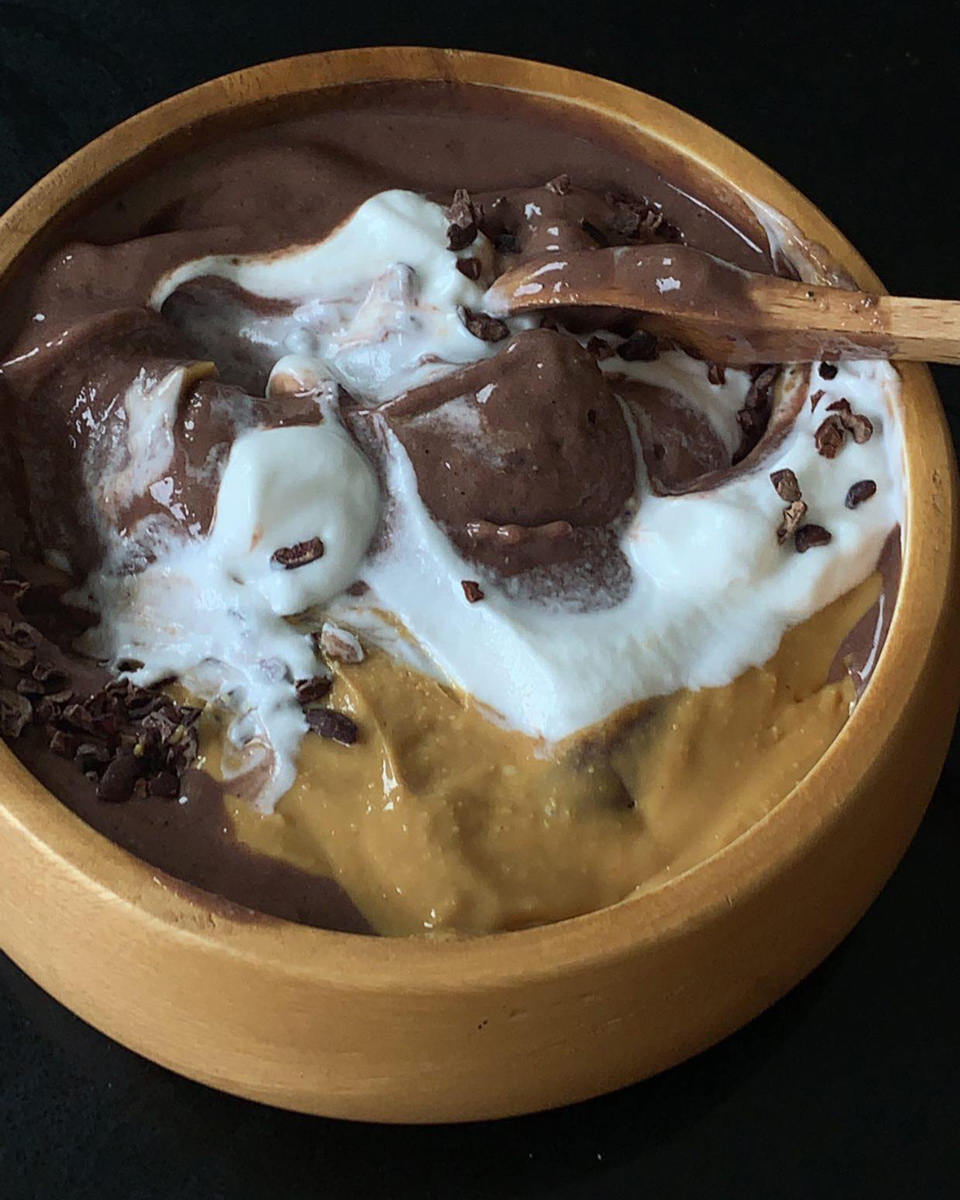 Serves 1 | V GF DF
Vegan, Gluten Free, Dairy Free

Ingredients:
Smoothie:
2 frozen bananas
1/4 cup frozen zucchini (optional)
1 espresso shot
1/4 cup almond milk
1 medjool date
1 1/2 tsp cacao
1/2 tbsp peanut butter
Toppings:
Cacao nibs
Peanut butter
Coconut yoghurt
Method:
In a blender, combine the frozen bananas, frozen zucchini (if using), espresso shot, almond milk, medjool date, cacao, and peanut butter.
Blend until smooth and creamy, adjusting the consistency with more almond milk if desired.
Pour the smoothie into a bowl.
Add a generous drizzle of peanut butter, sprinkle with cacao nibs, and dollop coconut yoghurt on top.
Grab a spoon, dive in, and relish the divine flavors of this smoothie bowl.
Save it on instagram here
Save it on pinterest here
Mocha Peanut Butter Smoothie Bowl
Ingredients
Smoothie Bowl

2 frozen bananas

1/4 cup frozen zucchini (optional)

1 espresso shot

1/4 cup almond milk

1 medjool date

1 1/2 tsp cacao

1/2 tbsp peanut butter

Toppings

Cacao nibs

Peanut butter

Coconut yoghurt
Directions
Blend together smoothie ingredients
Pour into bowl
Add toppings and enjoy!
With its luscious texture, delightful flavors, and nutrient-packed ingredients, the Mocha Peanut Butter Smoothie Bowl is a true morning indulgence. This vegan, gluten-free, and dairy-free bowl is not only a treat for your taste buds but also a nutritious way to fuel your day. Whether you enjoy it as a breakfast or a satisfying snack, this smoothie bowl is bound to become a new favorite in your recipe repertoire. So, treat yourself to a moment of bliss and savor the deliciousness of this bowl.