Fluffy Pumpkin Scones – A Delightful Treat Inspired by my grandma
There's something truly special about family recipes, and these healthy pumpkin scones hold a special place in my heart, thanks to my beloved Nana Grace. These fluffy delights were a regular treat during my childhood, and to this day, they bring back cherished memories. With their irresistible texture and the heavenly combination of flavours when paired with fig jam, these pumpkin scones are a true delight that I'm excited to share with you.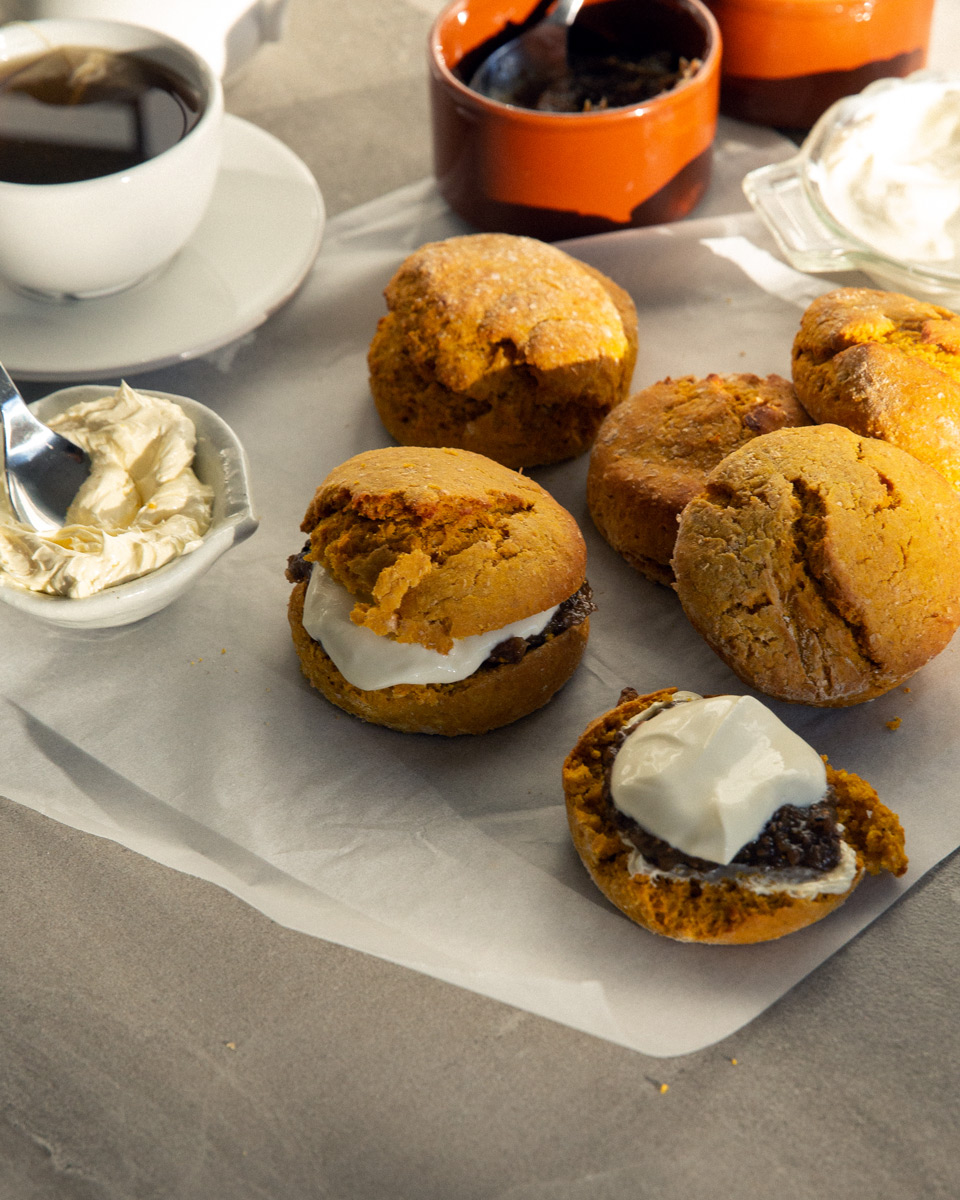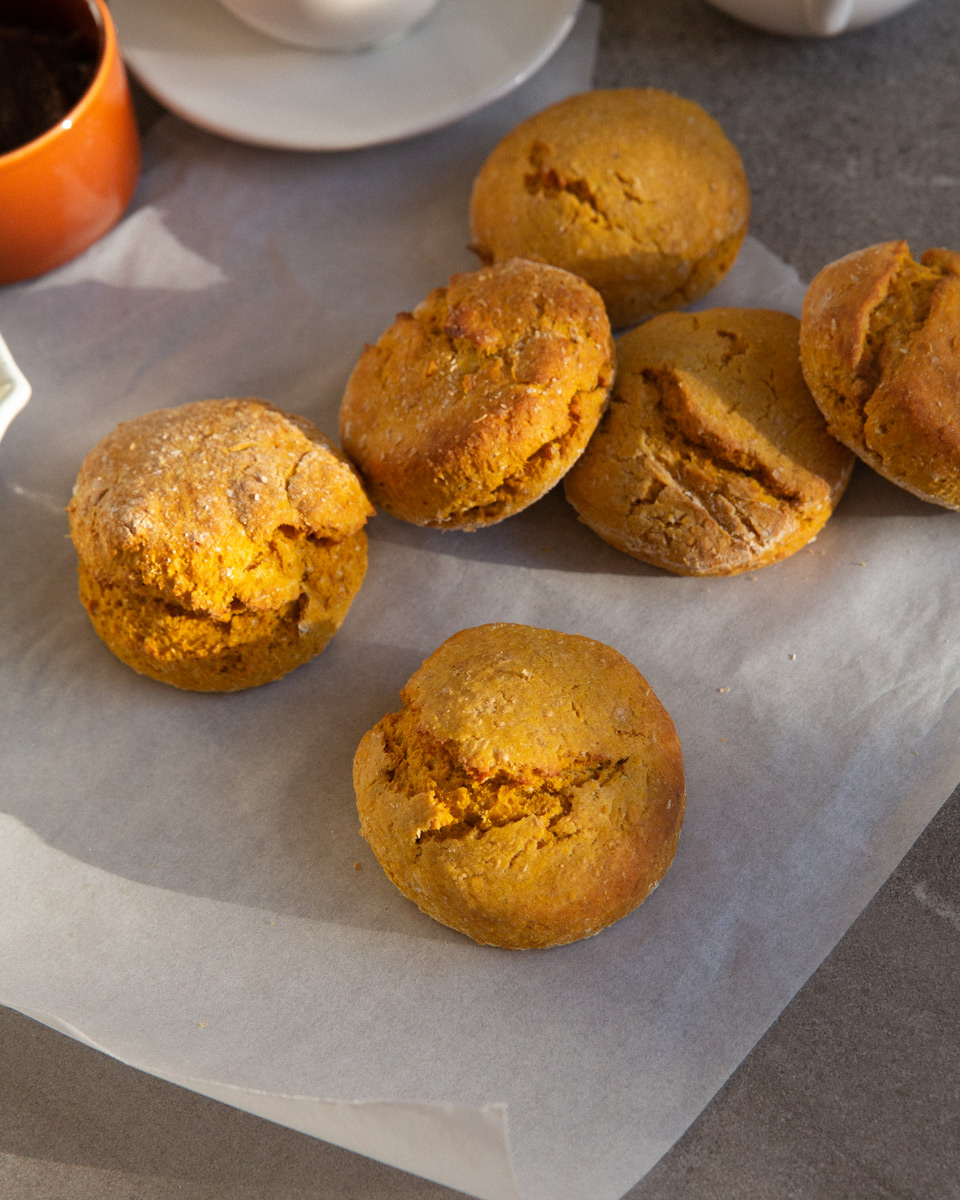 Serves 8 | DF RSF
Dairy Free, Refined Sugar-Free

Ingredients:
2 cups self-raising flour
1 cup mashed pumpkin
2 tbsp coconut sugar
2 tbsp dairy-free butter
1/2 tsp pumpkin spice
1 egg
2 tbsp oat milk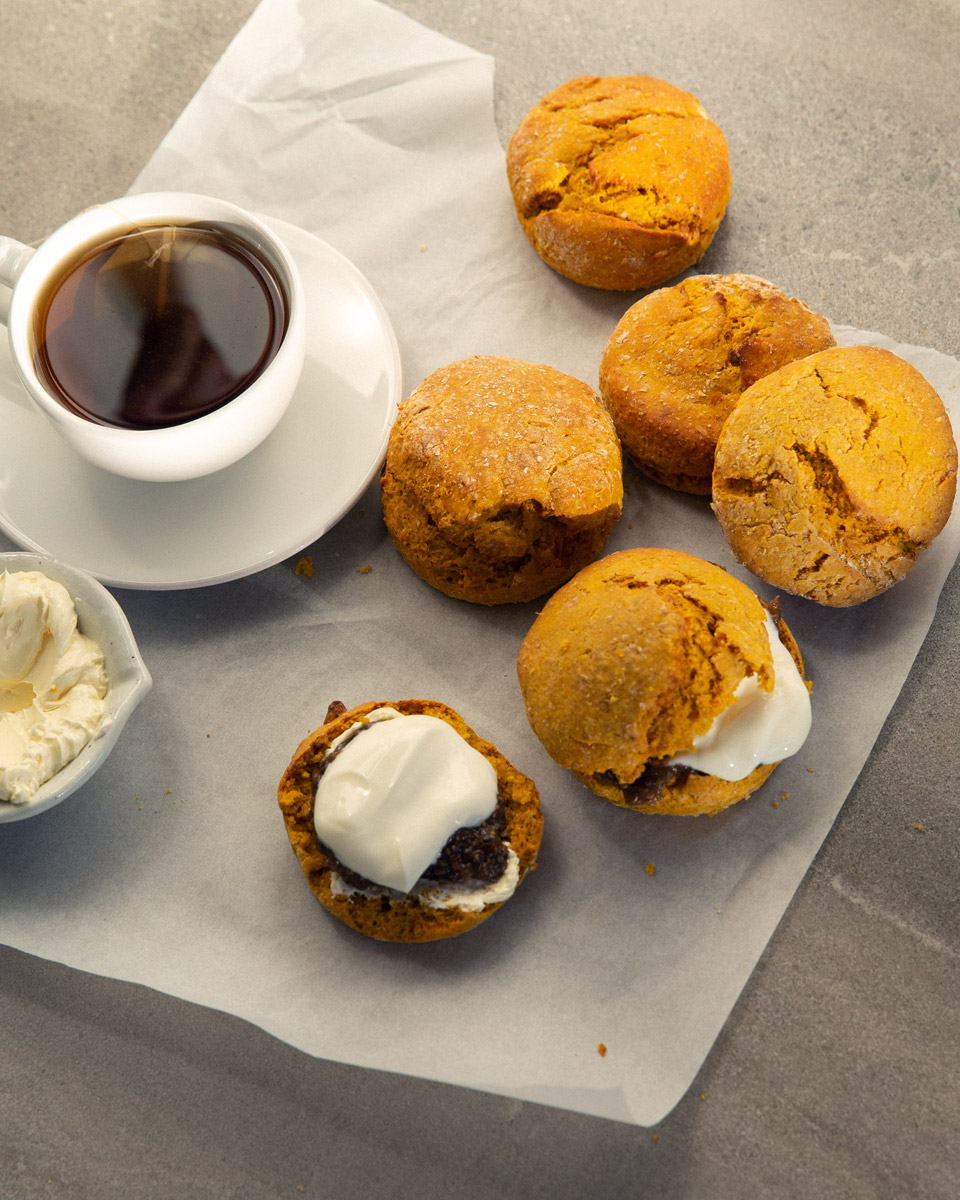 Topping:
Greek yogurt
Fig jam
Salted butter
Method:
Preheat the oven to 180°C/356ºF.
In a bowl, whisk together the self-raising flour and coconut sugar.
Add the dairy-free butter to the bowl and use your fingers to rub it into the flour mixture until it resembles fine crumbs.
In a separate bowl, combine the mashed pumpkin, egg, and oat milk. Mix well.
Pour the wet ingredients into the dry ingredients and gently fold them together until just combined, being careful not to overmix.
Dust a clean surface with flour and turn out the dough. Gently knead it a few times to bring it together.
Pat the dough into a circle about 2cm thick. Use a cookie cutter or a glass to cut out rounds from the dough.
Place the scones onto a baking tray lined with parchment paper and bake in the preheated oven for approximately 15 minutes or until golden brown.
While the scones are baking, heat the fig jam in a small pot over medium heat until it becomes soft and spreadable.
Once the scones are baked to perfection, remove them from the oven and allow them to cool slightly.
Slice each scone in half and spread a dollop of salted butter on the bottom half.
Top the buttered half with a generous spoonful of fig jam and a dollop of Greek yogurt.
Gently place the top half of the scone back on, creating a delightful scone sandwich.
Serve the pumpkin scones alongside a warm cup of tea or coffee, and savor each bite of this nostalgic treat.
Watch how to make it here
Pumpkin Scones
Ingredients
Scones

2 cups self raising flour

1 cup mashed pumpkin

2 tbsp coconut sugar

2 tbsp df butter

1/2 tsp pumpkin spice

1 egg

2 tbsp oat milk

Topping

Greek yoghurt

Fig jam

Salted butter
Directions
Preheat oven 180°C/356ºF
Whisk flour and sugar together
Use fingers and rub in the butter until crumbles
Add egg, oat milk, and pumpkin and fold through
Flour the surface and cut out rounds with a cookie cutter or glass
Bake for 15 min until golden
While the scones are in the oven, put the figs in a pot on medium heat until they become soft
Slice the scones, top them with jam and yoghurt, and enjoy!
Pumpkin scones hold a special place in my heart, this recipe is inspired by a recipe from my Nana Grace. These fluffy delights are made with love and bring back memories of cozy afternoons spent enjoying these treats with a spread of fig jam. The combination of the soft, pumpkin-infused scones, the sweetness of the fig jam, and the creamy tang of greek yogurt creates a flavor symphony that will transport you to a place of comfort and nostalgia. Whip up a batch of these healthy pumpkin scones, gather your loved ones, and create your own cherished memories with this delightful treat.